Mizuho Leasing is an official partner of Paralym Art operated by Shogaisha Jiritsu Suishin Kikou Association (General Incorporated Association Independence Promotion Organization for Persons with Disabilities) .

 Although approximately six percent of the Japanese population is disabled, understanding of their social participation is limited, and thus it is not rare for them to suffer from economic hardships. Supporting activities that encourage disabled artists to use their artistic talents to participate in society and to foster their independence, we are planning to create QUO Card decorated with their art for our shareholders.
 We have signed an official partnership agreement with Japan Para Athletics.
 Through supporting Japan Para Athletics Championships and holding in-house lectures by former para-athletes, we offer opportunities within our company to deepen understanding of para-athletics, and therefore work to support a society in which everyone can play an active part.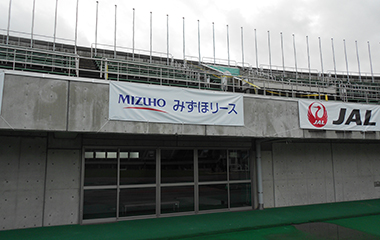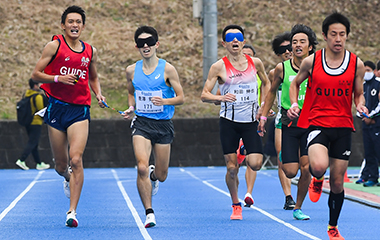 (Photos by Japan Para Athletics)
 Currently in Japan, there is a yearly total of five to eight million metric tons of food waste, yet on the other hand, approximately 1 in 6.5 people live under the relative poverty line*, making it hard for them to purchase enough nutritious food.
 Through a food bank called Second Harvest Japan, we were able to prevent wasting stockpiled emergency food for incidents such as natural disasters, as well as send food to children in foster care facilities, single-parent families and people who are forced to live on the street.
*The state in which the household income is less than half of the country's equivalent disposable income (the income that is calculated and adjusted by dividing the household disposable income by square root of the number of people per household). In 2018, the poverty line was 1.27 million yen, leaving 15.4 percent of the nation living under the relative poverty line. (Reference: Ministry of Health, Labour and Welfare 'Summary of Comprehensive Survey of Living Conditions in 2019')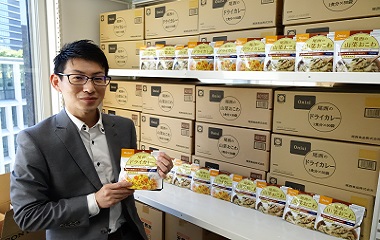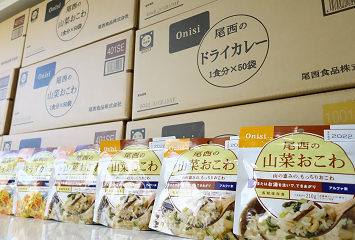 One of the top causes of death among children in Japan is childhood cancer. In order to support children with cancer and their families, our group supports the Gold Ribbon activity, which is both held and developed by Certified NPO Gold Ribbon Network. At our head office, we have installed a vending machine that allows a part of its sales to be donated to Gold Ribbon. By doing so, whenever our employees buy a drink, they too can be a part of this activity.
 Computers are now essential in the field of education and at work, yet they are not easy for some individuals and organizations to purchase. As a means to support disaster-stricken areas, NPOs working to solve social issues and special education schools, we donate computers through the Japan Leasing Association whose lease term has expired.
 As part of our social contribution activities, we send donations to support victims of disasters and for the reconstruction of disaster areas.

[Main Activities]
Donations for victims of the torrential rain in July 2020
Donations for victims of Typhoon Hagibis (Reiwa 1 East Japan Typhoon) in 2019
Donations for victims of the torrential rain in July 2018
Donations for victims of the Kumamoto earthquakes in 2016

*The donations shown above were made through the Japanese Red Cross Society.
 Employees at our Sendai branch volunteered in the Christmas Santa Clean-up Walk 2021 organized by the Mitsubishi Estate Group. This is an event where the volunteers dress up as Santa and remove trash from the streets. From the perspective of environmental protection, we used garbage bags that have been upcycled to plastic from non-edible rice called a 'rice resin bag'.
 Not only did this event give us a chance to contribute to the local community, it also gave our employees a chance to think about and to take action for garbage, environmental issues, and sustainability. Moving ahead as a group, each one of us will proactively participate in social action programs as our company value, 'Be a Creator of a Sustainable World'.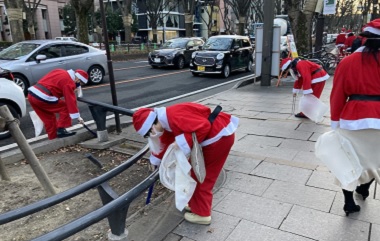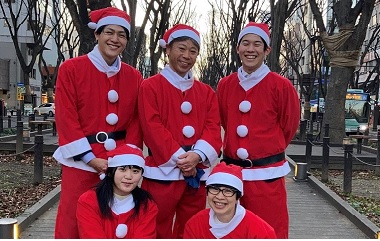 We consider protecting biodiversity and the environment to be essential for society.
 We encourage our employees to participate in volunteer activities by, for example, developing holiday systems. In cooperation with Tama Genryu Kosuge, an NPO organization, we planned a volunteer activity for our employees where they carried out forest maintenance including cutting and transporting trees.
 We will continue to work on a range of activities to conserve the environment.