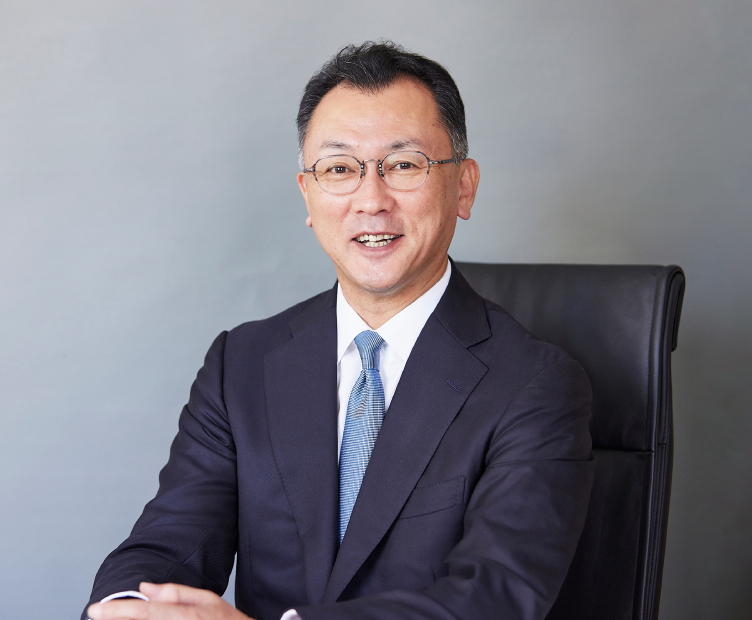 When our customers think, "who can we reliably consult with?", we want to be the first company to pop up in their minds.
Mizuho Leasing Company, Limited.
President and CEO
Shusaku Tsuhara
 For over 50 years since its founding, Mizuho Leasing has been making new strides in the history of leasing such as vendor leasing of construction equipment, leasing ships overseas, and leasing rolling stock for the first time in Japan. This has all been based on the spirit of challenge of our predecessors. At our core, we have had a strong desire to sincerely listen to customer feedback and present solutions to their problems. To that end, we have challenged ourselves to new ventures and overcome many obstacles along the way.
 Time has changed and so have our customers' needs, but our predecessors' strong desire has been passed down from generation to generation and driving our passion.
 The keyword for our new management philosophy that was revised in May 2021 is "Collaborate" (working together in strength). Although the strength of each person is small, we can accomplish greater things if we connect. Each company's capability is limited, but a greater horizon can be seen if we interconnect. These words embody the future that we are envisioning.
 To that end, we have not only been continuously strengthening collaboration within the group, but have also been launching innovative initiatives and adopting new methodologies such as by further strengthening proactive alliances and projects related to real estate and venture businesses, providing SDGs-related leases, etc. Mizuho Leasing makes its best effort every day to fulfill its mission, "Connect needs to create the future."
 Today, society is in a state of upheaval. Against such backdrop, the value of leases provided by players with high degree of freedom who can provide not only financial services but also products that reach beyond the expectation is increasing further. Through new ideas and spirit of challenge, we strive to become an even more valuable company by pursuing new values that can only be provided by a leasing company and expanding the possibilities of leasing. We are convinced that this ultimately leads to higher trust from our customers.
 We will continue to sincerely strive forward so that our stakeholders would feel glad to have chosen Mizuho Leasing from the bottom of their heart. Please continue to expect great things from Mizuho Leasing.
Mizuho Leasing Company, Limited.
President and CEO
Shusaku Tsuhara